<< back to list
Why did you choose Atlas MedStaff?
I chose atlas because of the family first culture. They are a company that truly has your back and wants to see you succeed. Atlas made me feel so welcomed during my interviews that I knew I had to be part of this team. I am excited to connect with so many different people around the country and help them turn their dreams into reality!
Family:
2.5 year old son named Kaysen who is FULL of energy and is my entire world!
Pets:
no:( I recently lost my dog of 17 years, but in the future I plan to get another small dog!
Hobbies:
I love being outside, swimming, playing volleyball ( I played in college), fishing, boating, being with my family, and going to country concerts
Top five things on your Bucket List:
1. Go skydiving with my Dad
2. Swim with dolphins
3. Swim with sharks (even though I am terrified)
4. Go to the Bahamas
5. Live on a farm
Favorite Quote:
"What's meant to be will always find a way."
"It is never too late to be what you might have been."
Breanna's Videos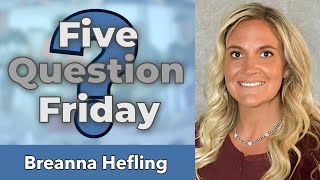 5 Question Friday