<< back to list
Why did you choose Atlas MedStaff?
I chose Atlas because I wanted to work for a company that had values, was full of good people, and treated their nurses well and that's exactly what Atlas does! I couldn't be happier to work for a place that encourages everyone to be themselves and where everything is based on doing the right thing.
Family:
My mom, dad, and younger sister!
Pets:
I have one poodle named Jack! He's really bad but he's cute so he gets away with it..
Hobbies:
I love to do anything outside! I enjoy reading, writing, and spending time with friends! I also love finding really good places to eat around Dallas, so spending time finding good, new restaurants is fun to me!
Any other information you want to share:
I love meeting people and talking to people so I'm really excited to have a job where I can do that! Nurses have been some of the most impactful people in my life so I'm more than happy to work with people who inspire me and make other peoples lives so much better.
Top five things on your Bucket List:
1. Skydive
2. Ride in a hot air balloon
3. Hike in Antelope Canyon in Arizona
4. Swim with turtles
5. Write a book
Favorite Quote:
Be the reason someone believes in the kindness of others.
Elyse's Videos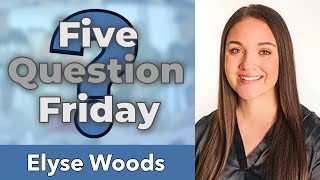 5 Question Friday