<< back to list
Why did you choose Atlas MedStaff?
I started my journey at Atlas because I want to have the opportunity to help the caregivers of the health care world find their place while traveling.
Family:
My boyfriend Alex of 5 years and our GS Maui!
Pets:
We have Maui who is a GS mix, he is so sweet and loves it when Alex and I work from home.
Hobbies:
I enjoy reading when I have the time for it. My favorite types of books to read our romance novels. I love going out for breakfast/brunch with Alex. I also enjoy going dancing with my friends when I have the time. I love meeting new people and being Bilingual(Spanish) definitely helps because I get to meet twice the people:)
Top five things on your Bucket List:
1. Return to Italy
2. See the northern lights
3. Spend New Year's Eve in NYC to see the ball drop
4. See Adele in concert
5. Go to Coachella
Favorite Quote:
"I've learned that people will forget what you said, people will forget what you did, but people will never forget how you made them feel." ― Maya Angelou
Iris's Videos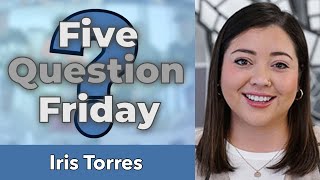 5 Question Friday