<< back to list
Why did you choose Atlas MedStaff?
I chose Atlas because their love for what they do and the respect they have for their team really spoke to me. The position also allows me to be in a very creative and unique role that'll push me to think of new and innovative ideas for the company.
Family:
My husband Jake and our son Theo
Pets:
Two cats named Boo and Gracie and two dogs named Zoey and Tommy.
Hobbies:
Taking pictures, shooting/editing videos, reading, writing, playing/singing music, road trips, spending time with my family, baseball (GO GIANTS), going to the gym, napping.
Any other information you want to share:
I've gone skydiving 3 times in the past 5 years, I have 8 tattoos, and I love scotch!
Top three things on your Bucket List:
1. Visit Ireland
2. Write a children's book
3. Start a band
Favorite Quote:
"You have no idea how high I can fly" - Michael Scott
Jamie's Videos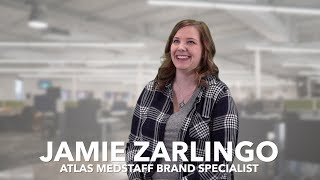 Bio