<< back to list
Why did you choose Atlas MedStaff?
The people that work here are amazing!! I had to a part of the team and join the family. I love the culture and values that Atlas has!
Family:
My mom, dad, 3 brothers, 2 sister-in-laws and 3 nephews
Pets:
Chocolate lab named Mook, pastel ball python named Tarzan, and a shih-tzu named oreo (at my parents) 😊
Hobbies:
I love traveling, crocheting, painting, cooking, reading, poetry, drinking coffee, hiking, fishing, camping… a.k.a. anything outdoors! I also love trying new thing!
Top five things on your Bucket List:
1. Go on a cruise
2. Visit all 7 continents
3. Skydiving
4. Go to exotic animal park and play with tigers, lions, monkeys, etc.
5. Learn to play the piano
Favorite Quote:
"Imperfection is beauty, madness is genius and it's better to be absolutely ridiculous than absolutely boring." ― Marilyn Monroe
And
"I find the best way to love someone is not to change them, but instead, help them reveal the greatest version of themselves." – Steve Maraboli
Jenna's Videos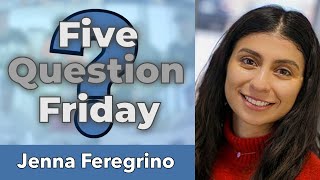 5 Question Friday