<< back to list
Why did you choose Atlas MedStaff?
I chose Atlas to be apart of a progressive company that is growing and going about their business the right way
Family:
I have a fiance, Rachel. My father, Perry. My mother, Vicki. Sister, Chelsea. Brother in laws: Drew and John.
Pets:
My parents have a shitzu puppy named Mixie
Hobbies:
Anything sports related. I love to play golf during the spring, summer and fall months. I love going on walks and hikes with my fiance and love traveling the country. During the winter months, I enjoy playing video games.
Any other information you want to share:
Top five things on your Bucket List:
1. Go to every MLB baseball stadium
2. Attend a World Series game with St. Louis playing
3. Attend a Conference/National title game with Nebraska playing.
Favorite Quote:
"I can accept failure. Everyone fails at something. But what I cannot accept is not trying again." - Michael Jordan
Josh's Videos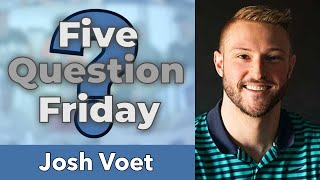 5 Question Friday