<< back to list
Why did you choose Atlas MedStaff?
I had a conversation with a neighbor that is a travel nurse recruiter for another company and as we talked it hit me that her profession was a perfect fit. Travel Nurse recruiter blended two of my passions, connecting people to their dreams and being a part of a team that does things the right way. My neighbor recommended Atlas and that I should apply because she had heard nothing but great things from friends that work here. Right from my initial contact, I knew Atlas is "Where I Belong"
Family:
My Wife JoAnna and our three wonderful daughters, Olivia, Willow, and Meadow.
Pets:
I have a Black Lab Stella and my wife and kids have 2 cats Pratt and Whitney (I am highly allergic to them and keep my distance lol)
Hobbies:
I love to camp, travel, anything beach related, huge sports fan playing or watching, and enjoy playing corn hole.
Top five things on your Bucket List:
1. Pay off all credit card debt
2. Make it to Hawaii for our 25th wedding anniversary
3. Fly in a hot air balloon
4. Healthy enough to walk my daughters down the aisle
5. Retire in Florida or Nashville TN
Favorite Quote:
Success is never owned; it is rented, and rent is due every day.
Justin's Videos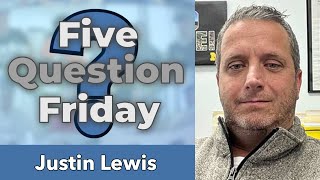 5 Question Friday