<< back to list
Why did you choose Atlas MedStaff?
I chose Atlas because of the family-like dynamic. Atlas thrives on making each individual feel a part of their family whether it's their employees or nurses. As a former teacher, I knew that every classroom is what you made it and Atlas makes it a place for everyone to belong!
Family:
Husband - Jon :-) #1 fan of my 2 nieces and 4 nephews!
Pets:
I have a Maltipoo named Kostner. I had a love for Kevin Costner growing up and when we saw how pretty this little gal was, I had to name her after one of the greats. Since she is a girl, we switched out the 'C' for a 'K'!
Hobbies:
Anything exercise, reading, writing, family hangouts, and all pool related activities.
Top five things on your Bucket List:
1. Live a long and healthy life with my husband.
2. Write a novel or two.
3. Spoil my nieces and nephews.
4. Design my husband and me a dream home!
5. Go back to Italy, but with my husband!
Favorite Quote:
"Never underestimate the power of dreams and the influence of the human spirit. We are all the same in this notion: The potential for greatness lives within each of us." ~Wilma Rudolph~
Katie's Videos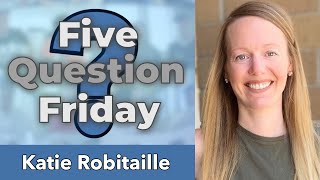 5 Question Friday