<< back to list
Why did you choose Atlas MedStaff?
I chose Atlas because I like the flexibility and trust in their employees.
Family:
I am married to my amazing husband Adam Behm and we have a daughter named Harper who is our world.
Pets:
We have an Aussie-doodle named Ranger, and a Puggle named Daisy.
Hobbies:
I love to read, watch movies, workout, and anything outdoors.
Any other information you want to share:
My Husband is a chiropractor and owns a clinic in Bellevue that we market for on most weekends.
Top five things on your Bucket List:
1. Travel the World
2. Walk on fire
3. Zip-line through the jungle
Favorite Quote:
"Don't think about what could go wrong, think about what could go right. Always find the positive in every situation."
Laura's Videos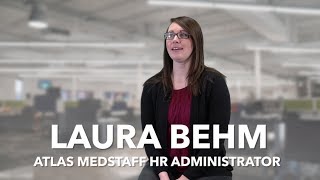 Bio