<< back to list
Why did you choose Atlas MedStaff?
Ethics and a sense of humor. Both are very much needed in this world and are top priority to me.
Family:
Mom of two amazing kiddos and a dog mom.
Pets:
Pups and chickens.
Hobbies:
I like to repurpose and refinish furniture. I enjoy woodworking and anything outdoors. Hanging with my little people and exploring with them is a lot of fun.
Any other information you want to share:
As a mom and a nurse, it is in my nature to be a caregiver. That care extends to anyone that I engage with. My travelers and their well-being is important to me.
Top five things on your Bucket List:
1. More time with my toes in the sand/salt therapy.
2. Traveling more with my minis.
3. Have a self sufficient homestead.
4. Learn how to build and manage said homestead.
5. Learn botany. Self admitting nerd, I love to learn.
Favorite Quote:
A true sign of intelligence is not knowledge but imagination. Albert Einstein
Mandi's Videos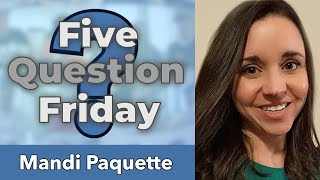 5 Question Friday