<< back to list
Why did you choose Atlas MedStaff?
I chose Atlas because of the Culture and People.
Family:
Amazing wife, Heather. Two boys, Lucas(5) and Nathan(6 months)
Pets:
Milo (mini goldendoodle), Stella(cat), and Theo(cat)
Hobbies:
Anything outdoors, working out, house projects, reading,
Top five things on your Bucket List:
1. Travel to Australia.
2. Run a Marathon.
3. Learn to play the piano.
4. Go sailing on the ocean.
5. Skydive.
Favorite Quote:
"Working hard for something we don't care about is called stress: Working Hard for something we love is called passion." -Simon Sinek

Rob's Videos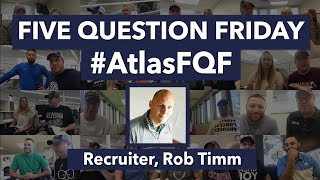 Five Question Friday