<< back to list
Why did you choose Atlas MedStaff?
I joined Atlas because of the atmosphere and the people who make this company for what it is. Getting the chance to administrate with all technical operations throughout the day is just one of the reasons why I love working for Atlas. Having been an intern for Atlas and a part-time IT Specialist in the past (2018-2019), I have gained great insight on the day to day operations from a technology standpoint.
Family:
Rebecca Jaquis - mother, Brad Givens - step father, Chandler Schaefer - brother.
Pets:
Stärke - German Shepherd, Jax - cat.
Hobbies:
Playing piano and pipe organ, Designing and Operating sound and lighting for theatrical productions, spending time with my family and friends, and watching the sitcom "F•R•I•E•N•D•S".
Top five things on your Bucket List:
1. Visit Notre Dame
2. Attend a Super-Bowl Half Time Show
3. Hang out with Bruno Mars
4. Live in another country for at least a year
5. Attend the FIFA World Cup
Favorite Quote:
"Don't worry about failures, worry about the chances you miss when you don't even try."
Spencer's Videos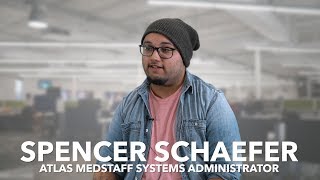 Bio