<< back to list
Why did you choose Atlas MedStaff?
I chose Atlas because of their values, the way that they treat their employees and nurses, and the way that everyone wants you to succeed.
Family:
My mom, dad, sister, and amazing girlfriend Laura!
Pets:
I have a poodle named Asher!
Hobbies:
My hobbies include traveling, hiking and rock crawling in my Jeep Wrangler.
Top five things on your Bucket List:
1. Backpack through Europe
2. Take my Jeep down the Rubicon Trail
3. Go skydiving
4. Attend a Super Bowl
5. See the Northern Lights
Favorite Quote:
"You miss 100% of the shots you don't take" – Wayne Gretzky – Michael Scott
Trevor's Videos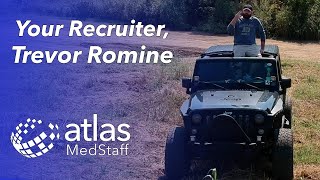 Get to know Trevor Romine