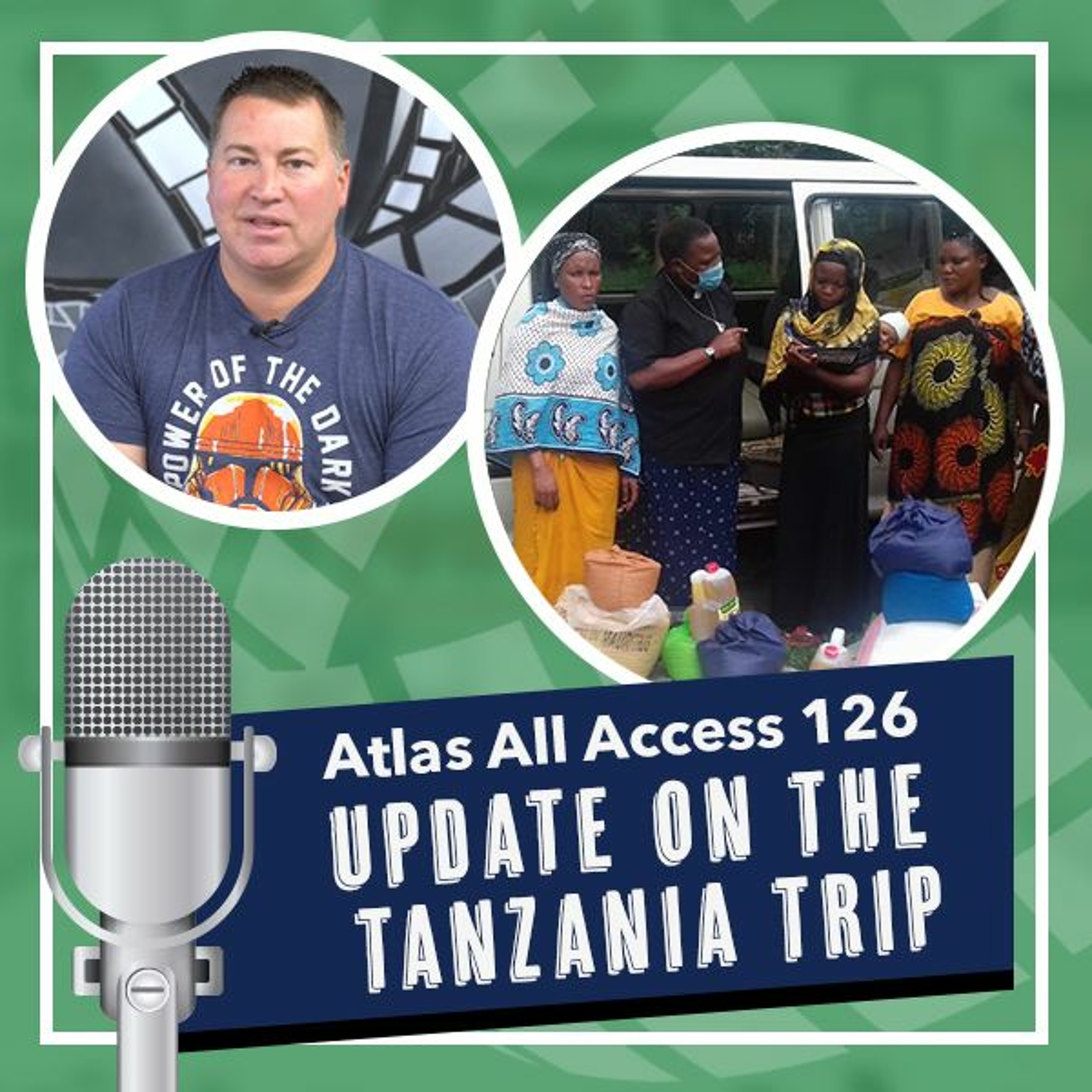 Giving back to Tanzania and those that you can - Atlas All Access 126
07-17-2020
We check in with Atlas President Steve Ryan to talk all things Tanzania.
What's going on with the Tanzania trip? How are our friends doing overseas? What have we been able to do to help them?
Atlas MedStaff has partnered with the good people at the Mosaic Foundation to give back to communities in Tanzania. This year's trip has been put on hold because of the coronavirus pandemic, but we are still excited to keep open hearts and minds and give back where we can.
________________________
Previous Tanzania episodes Check out the original story about how Atlas MedStaff got connected to the Mosaic Foundation and began our quest to partner with the Tanzania community. We are proud to give back where we can, and inspired by the friends and change-makers we've met.
https://youtu.be/EqkPnp4zhJM
Here a solid mix of beers that our own Atlas President Steve Ryan brought back to Atlas HQ. We cracked these open in this special episode of "A Beer With Atlas", where we review craft brews from around the country where our healthcare travelers visit.
https://youtu.be/aY-RpfldHbw
We ran a contest to select two Atlas travelers and two Atlas in-house staffers to go on our next trip to Tanzania. We have an excellent group selected, and everyone was excited to go and make a difference. Unfortunately, Covid-19 and the current state of the world has put those plans on pause. But we can't wait to reconnect with our friends overseas.
https://youtu.be/2q5DFn7gp-E
Rich Smith: If I had a nickel for every time we said, "Well, 2020 wasn't what we thought it was going to be", that's a lot of nickels. Maybe that's why there's a coin shortage in the country right now. I don't know. Have you been to a Lowe's lately or anywhere they say they're not taken coins? Who knows. Anyway, on this episode, we are going to revisit our mission trip to Tanzania last year. And then talk about what happened too this year is we had two travelers that were going to go on that mission trip again this year with Mr. Steve Ryan and get caught up on where we're at with Mosaic in what was not a normal year. Atlas All Access starts now.
Steve Ryan: Hi, this is Steve with Atlas. I wanted to spend a few minutes to give you guys a quick up date on what's going on in Tanzania. One of the projects that Atlas is very passionate about and very excited to help out with. It's kind of been put on hold with everything going on in the world here of late. We were blessed last year to get out there and meet Pastor Anna and her staff with Mosaic. And they're just doing amazing things to help the local community there in Moshi.
Steve Ryan: Unfortunately, this year we were going to bring another group of people, a few of our travelers out, some of our staff are going to head out and see what we can do to help out even more. Unfortunately, with the COVID we're unable to do that trip this year. We're kind of tabling that until we can get back out there probably this time next year, but I wanted to give you guys a quick up date and just let you know what they're dealing with.
Steve Ryan: A lot of things in the media are controlled right now and just focused on the US but the rest of the world is dealing with this as well. Tanzania just went through one of the worst floods they've ever had in 30 years. One of the biggest obstacles they had was making sure they could get food to people that were on those dirt roads, that didn't have access to getting food.
Steve Ryan: We bought a bus last year for them to help transport the kids from each of their centers. And that bus came in very handy and was a nice transport vehicle, so they could bring food to different areas. Very happy that the bus got used in a bunch of different ways. And the fact that we were able to provide something to them that help those families meant a lot to us.
Steve Ryan: On the plus side, and we're glad we were able to do that. The negative side, they're just dealing with a lot. I just wanted to give you an up date on Tanzania. Our hearts go out to them and we're just pulling for them. We know they've got a really tough road ahead. I think we all are scared. And a lot of people in the country are scared and just trying to keep their family safe.
Steve Ryan: We wrap our arms around the people we care about. We stay home and we stay in our little bubbles, but there's a world going on outside of those bubbles that's really counted on us for a long time to help them be there for them. And unfortunately in times like this, they're the ones hit the hardest. And I just wanted people not to forget about those communities and those groups of people that do need our help.
Steve Ryan: Here at Atlas, we're always going to focus on what we can do to help out. And Tanzania was a great opportunity, but there's a lot of great causes out there. I'm just hoping a lot of people understand that. I understand trying to wrap your arms around your family and keep them safe first, but I understand there's other people out there that need our help. I'm hoping other people keep that in their forefront and in their head.
Steve Ryan: But as the time goes on and things get better, we're hoping to get more of our staff out, some of our travelers out to Tanzania and just wanted to give a shout out to them and tell them they're in our prayers and give you guys an up date as well. From here at Atlas, we just want to thank you guys for your support and just look forward to doing more in Tanzania. Thank you.