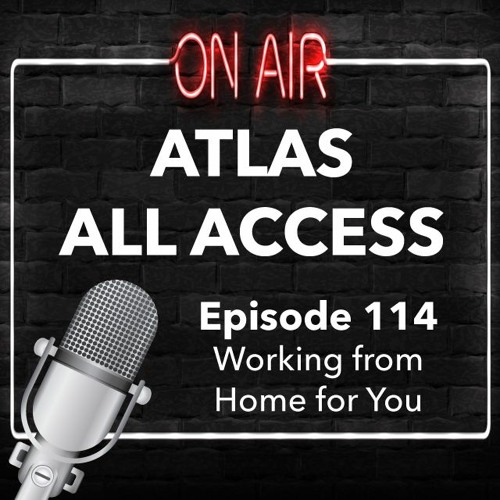 Working from home for you - Atlas All Access 114
04-09-2020
We continue to do what you need us to: Stay home, practice good social distancing, and work for you.
"Where you belong" is not just something we threw on a t-shirt. It's not a clever marketing slogan. It is something we truly believe in. It is part of who we are, through and through.
This update is a little different. We want to highlight some of what we're doing for you, and also reaffirm our commitment. We're not changing. We're the same company -- and the same people -- you have always relied on.
Reach out. Text your recruiter. Comment to us on social media. Watch some of our content. Listen to some podcasts. Read a book! Find a way to unplug and relax if you can. Get some sleep.
We're here for you.
Rich Smith: Okay, so what are we on? Week three or four of this social distancing. Seems like it's all the same all across the country, so we are still doing our part here in our homes. I have missed the office terribly. I really missed the interaction with all of our recruiters and staff, as well. I know we're doing our best to keep up through Zoom and through Teams and having those video conferences and stuff, which I'm sure that all of you have heard about. You're still in the hospitals. You're still dealing with patients and people and everything day after day after day, and I understand that. Just in it.
Rich Smith: We're doing our part still to make sure we stay out of the system, that we don't get sick, and that we don't end up as one of your patients. I want to just stay as your agency or your recruiter or your... or whatever. I don't want to be one of your patients right now. We're still trying to do our part.
Rich Smith: So that being said, over the past week to two weeks, we've reached out and really asked our recruiters and all of our staff to record themselves doing different things. It's the having your kids do some art, some chalk art. Get them outside, doing something outside, or just, one, we've all said thank you. Every agency has said thank you, right? Or I hope they have. We tried to do it in a little bit of a different way to show our gratitude and appreciation, and that all started a few weeks ago with the, "We stay home because you go to work," thing.
Rich Smith: I get it. It's not an easy time. It's not an easy time for anyone right now, but we are still very cognizant of what's going on in the world, what's going on in our country, and how we as an agency can do our part without actually being there in the facility. It's certainly different for us, right? We've always been a very hands-on agency. We've always been there when you needed us, and I certainly hope that is still the case. As you call your recruiter, as you call and you have an issue with... If you have an issue with payroll or whatever, I hope that is still the case. I hope we are still fulfilling our job as an agency when it comes to your needs, especially right now.
Rich Smith: So all of the stuff that we're doing in addition to that is fun. It's meant to bring some... meant to maybe bring a smile to your face, maybe meant to... for us to show you... It seems so cliche, but just to show you that we really do truly appreciate you putting your lives on the line by going work every day and doing the job that you do. It's not easy. I get it. And these little things, these little videos that we put out and the images and all of that is just us trying to show our appreciation and show you that we're there with you 100% of the way. Even though we're not standing beside you in the hospital, we're there with you.
Rich Smith: There are things like... There are struggles that you're having at the facility right now with PPEs, and that's so tough. And if there was more we could do, I would do it. Trust me, this is a conversation we have with Kiana in compliance, who is our VP of compliance, every single day. Can we get more N95 masks? What can we do? The fact is they just aren't out there. The opportunities that we've had to buy some of this have been at such a high cost that it just didn't seem to be the right decision, so it's not that we don't want you to have it. It's just when there are companies out there that are price gouging so badly because they know it is such a necessary item, it just didn't... We will find different ways, and we're working on those different ways.
Rich Smith: So in the meantime, you're going to see us continue down the road that we're on producing content like we do every single day. We do it from our homes now. We do it through Google Drive and places like that where people record themselves on their phone, and they send it in too. I hope you're understanding why we're doing the content that we do, and I hope it's bringing just a little bit of happiness or levity to your day, which is a whole lot harder than it used to be, right? And I hope it will get easier. I hope as we go into the summer these things change, and then we can get out and be with each other again. I don't know.
Rich Smith: But in the meantime, you have our commitment that nothing's going to change on our end. We're still going to be the exact same company that you always come to count on, that you've always relied on. You've put your professional license in our hands, and we understand how important that is, and we're not going to take that for granted one bit. Where you belong isn't just a thing we put on a tee shirt or on a sweatshirt or on a hat. It's 100% who we are and how we live every single day.
Rich Smith: Even though we're not in the office, that we're here. Nothing has changed there, so keep on keeping on. We are here if you need us, you know your recruiter's phone number. You know you can text them at any time. Do that, reach out, and then in the meantime, enjoy some of the content we're producing on our end. Like I said, I hope it brings just a little bit of fun to what is otherwise a probably very, very stressful day and time for you all right now.