Find Where You Belong.
Discover the difference working with a top travel nursing agency can make.
Together we can do amazing things!
Search jobs and connect with a recruiter here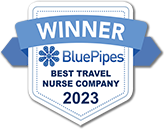 Be a happy traveler!
Atlas MedStaff provides a unique approach to healthcare staffing.
Our beliefs are deeply rooted in everything we do. Honesty, determination, integrity, and pride aren't just buzz words we use because they look good posted on a wall. They are the values we live by and are evident in the work we do every day. We start at great and expect more every day. Our team is focused, experienced, and dedicated to providing the ultimate travel experience to every healthcare professional we serve. As a veteran owned business, we honor and respect what it means to serve. We understand the difficult nature of change in the lives of our traveling healthcare professionals and support them throughout the process.