<< back to list
Why did you choose Atlas MedStaff?
I chose Atlas to get away from the dog eat dog corporate battlefield. They allow decision making in my processes and the flexibility needed to keep balance in between work and home. They genuinely care about their employees and strive to make this a great place for them to be.
Family:
My husband Mark (firefighter) and we have three children: Addie, Owen and Chase
Pets:
We have cows, chickens, a dog, turtle, fish, and hermit crabs.
Hobbies:
Running, photography, reading
Top 3 things on your Bucket List:
1. Run half marathon.
2. Travel to Europe.
3. Learn to play guitar.
Favorite Quote:
Believe you can and you're halfway there. –Theodore Roosevelt
Alicia's Videos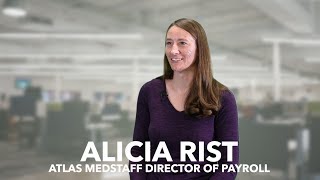 Bio