<< back to list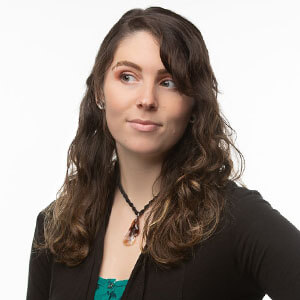 Why did you choose Atlas MedStaff?
I was referred to Atlas by Jamie (brand specialist) who I worked with at a previous employer. When a new brand specialist position became available she informed me about the opportunity and I jumped on it. She told me that Atlas Medstaff is the best company that she has ever worked for so being the super awesome person that she is, I took her word for it! Everyone here is so friendly and helpful.
Family:
My handsome and supportive boyfriend, Mr. Robb Shurter and our two furbabies!
Pets:
We have a black and white Siberian Husky named Aleu and a brindle Boxer mix named Quinn. These two are quite the pair and I love them dearly!
Hobbies:
Aside from work and hanging out with the dogs I keep myself pretty busy with music and art. I am the drummer in a metal band called The Tale Untold. We are constantly practicing, recording, and playing shows! As for art, watercolor is my main jam. I have been taking a handful of commissions for animals/pets, loved ones, landscapes, etc.
Any other information you want to share:
I was born and raised in Omaha, NE and I love it here. Many people think Omaha is boring, but I say those people are boring! It is nice to travel and then return home to our big, little city. For school, I graduated from UNO with my bachelor's degree in studio art and a minor in art history. While I was there I got to travel to London for 2-weeks with my art history class. It was so surreal and amazing.
Top five things on your Bucket List:
1. Travel to Egypt
2. Visit all 50 states
3. Return to London and travel more of Europe
4. Open for Slipknot in concert
5. Open for I Prevail in concert
Favorite Quote:
"If you're not weird, you're boring." "Any idiot can face a crisis, but it is this day-to-day living that wears you out." -Anton Chekov