<< back to list
Why did you choose Atlas MedStaff?
I chose Atlas Medstaff originally as a new travel nurse. I loved everything about the company, especially my recruiter and the way she treated me coming into a new realm of nursing. She is the reason I wanted to become a recruiter myself.
Family:
Dawn is my mother, Shannon is my father, and Kevin is my significant other.
Pets:
I have a lab name Chick and a miniature poodle name Redboy (yes I know, it's an odd name). Long story behind it :) but he gives the best cuddles ever and Chick does too except she's an 85 pound dog who thinks she's a lap dog
Hobbies:
I love fishing, being outdoors, rock scrambling, hiking, being on the boat, and watching Law and Order SVU along with Clemson football! Go tigers!
Top five things on your Bucket List:
1. Dog mom for life :)
2. Live out of an airstream for a year
3. Travel to all 50 states
4. Summit a 14er
5. Visit each continent
Favorite Quote:
"You miss 100% of the shots you don't take"- Wayne Gretzky- Michael Scott
Caitlin's Videos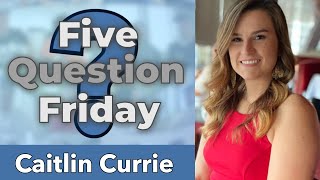 5 Question Friday