<< back to list
Why did you choose Atlas MedStaff?
They treat employees like family and understand the balance between work and home.
Family:
My husband Keith and we have one son RJ
Pets:
2 cats; Bart and Whiskers
Hobbies:
Spending time with family and friends, traveling, gardening, watching movies.
Top five things on your Bucket List:
1. Go on a tour of the interior of Alaska
2. See the Pittsburgh Steelers play on Heinz Field
3. Go on a WWII Battlefield tour thru Europe
Favorite Quote:
"Never be afraid to try something new. Remember, amateurs built the Ark, professionals built the Titanic." - Anonymous
Deanna's Videos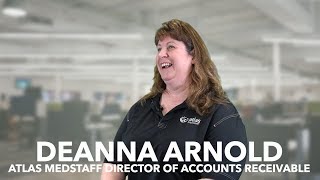 Bio