<< back to list
Why did you choose Atlas MedStaff?
I chose Atlas MedStaff because of the culture. I could tell that their values aligned with mine and that I could be successful in a positive environment.
Family:
I love my family!
Pets:
Sweet fur babies.
Hobbies:
I love to read, be active, watch basketball, spend time with my family and TRAVEL! Does that count as a hobby? I think so.
Top five things on your Bucket List:
1. Go to the Greek Islands and Malta
2. Go to a Golden State Warriors game with my family
3. Write a book
4. Watch my children grow old
5. Run a marathon after having kids
Favorite Quote:
"I've missed more than 9,000 shots in my career. I've lost almost 300 games. Twenty-six times, I've been trusted to take the game-winning shot and missed. I've failed over and over and over again in my life. And that is why I succeed." Michael Jordan
Erica's Videos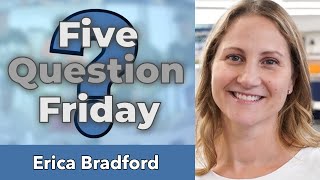 5 Question Friday