<< back to list
Why did you choose Atlas MedStaff?
I love working at Atlas because of the company culture, it's like no other I have ever experienced. Everyone is genuine, and you can tell everyone is truly passionate about what we do.
Family:
Randy (Fiance) and 2 Daughters, Alexis and Sammi.
Pets:
2 Cats, Thelma and Louise.
Hobbies:
Riding my motorcycle, traveling, reading, darts, volleyball, anything crafty
Top 3 things on your Bucket List:
1. Visit every continent
2. Skydive
3. Have A Pet Pig
Favorite Quote:
Life isn't about finding yourself, life is about creating yourself.
Jackie's Videos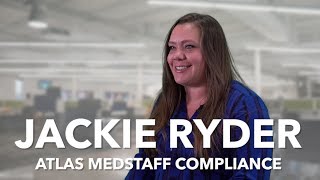 Bio