<< back to list
Why did you choose Atlas MedStaff?
My fiancé is a travel nurse and has worked with a few different companies. We found that Atlas treated her the best. We live full time in our RV and travel this beautiful nation. I want to be able to help others achieve their dreams, the same way Atlas has helped us achieve ours.
Family:
My fiancé
Pets:
We have a boxer that we recused!
Hobbies:
Motorcycle riding, fishing/boating, 2 stepping, being outdoors, and the occasional video game
Any other information you want to share:
We live full time in our RV and hope to settle down in Tennessee. We want to build a barndominium around our RV. We also want to adopt a couple kids within the next 5 years.
Top five things on your Bucket List:
1. Visit every continent. 5 down 2 to go
2. Base Jump
3. Sail around the world
4. Scuba dive
5. Build our dream home by ourselves
Favorite Quote:
To be successful is to be helpful, caring, and constructive, to make everything and everyone you touch a little bit better
Joshua's Videos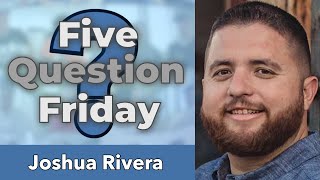 5 Question Friday