<< back to list
Why did you choose Atlas MedStaff?
I love working for a company that espouses integrity at every turn. It is a company that I know will work to do what is best for its travelers.
Family:
I have been married to my husband, Daniel, since 2013. We have three beautiful children. We have one daughter, Charlie, born in 2015. We have two sons, Sutton and Stallings, born in 2017 and 2019.
Pets:
We have two dogs. Our Boston Terrier, Cooper, is the world's best pup. He is a happy boy. Our mini schnauzer, Teddy, is the world's most anxious pup but we love him so much.
Hobbies:
My favorite thing to do is spend time with my husband and children. We are huge college football fans and live and breathe to watch the Tide roll! We also have a wonderful extended family that we love to see every chance we get. When I can get away, my favorite place to be is at Magic Kingdom with my kids.
Top five things on your Bucket List:
1. Take my children on a tour of Europe
2. Watch Alabama win its 19th National Championship (and then its 20th!)
3. Watch my kids grow into happy, secure, and successful adults
4. Go on an Alaskan cruise
5. See Machu Picchu
Favorite Quote:
"Face the demands of life voluntarily. Respond to a challenge, instead of bracing for catastrophe."
Kristin's Videos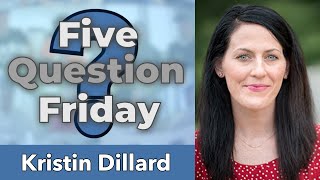 5 Question Friday