<< back to list
Why did you choose Atlas MedStaff?
I have a friend who works here and she couldn't stop saying amazing things about the company. From being a military spouse, needing a career change and simply wanting to be part of a true team, I think I'll feel at home!
Family:
I am married to my amazing husband, Ryan. I have two daughters Bailea and Callie, and my much needed son, Dashiell 'Dash'.
Pets:
We have an Australian shepherd, Australian Stumpy Tail Cattle Dog, and 2 cats. Riley, Keida, Shrimp and The Doctor.
Hobbies:
Volleyball, face painting, softball, painting
Top five things on your Bucket List:
1. Go to Ireland
2. Have a honeymoon, Rome or beach somewhere with crystal water
3. Create something that would profoundly change the world of even 1 person
4. See both the Braves and Red Sox play at their home field
5. Learn to ride a motorcycle
Favorite Quote:
Oh yes, the past can hurt. But the way I see it, you can either run from It-Rafiki. The problem is not the problem. The problem is your attitude about the problem -Jack Sparrow
Mandy's Videos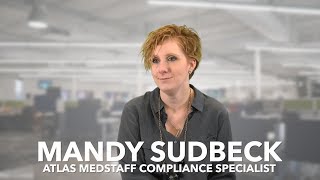 Bio