<< back to list
Why did you choose Atlas MedStaff?
I LOVE being part of a company that values relationships over transactions. I genuinely get so excited helping other people's dreams come true, so I feel so fortunate that I get to do that for a JOB!
Family:
I am married to my husband, Joe, and we have two small ones who work very hard to keep us busy. Our son, Jack, and daughter, Elise, definitely keep us on our toes! My family lives in Alabama and Joe's lives in Vermont.
Pets:
We adopted two adult dogs and they are hot messes, but we love them. :) Benny (goldendoodle) and Tony (yorkiepoo).
Hobbies:
My favorite thing to do is spend time with my family. We love to play games and watch Alabama football. I love going to breweries and wineries. When I can get away, my favorite place to be is on a boat at the lake.
Top five things on your Bucket List:
1. See the Northern Lights
2. Own a boat and a lakehouse
3. Stay overnight in an ice hotel
4. Flip a house
5. Meet Tia Stokes (if you don't know her - look her up on social...she is an inspiration!)
Favorite Quote:
"Start before you're ready."
Mary Beth's Videos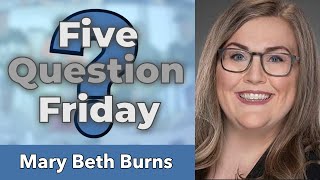 5 Question Friday