<< back to list
Why did you choose Atlas MedStaff?
I LOVE being part of a company that values relationships over transactions. I genuinely get so excited helping other people's dreams come true, so I feel so fortunate that I get to do that for a JOB!
Family:
I have been married to my husband, Joe, since December 2016. We have a son, Jack, (born April 2021). My family lives in Alabama and his lives in Vermont.
Pets:
We adopted two adult dogs and they are hot messes, but we love them. :) Benny (goldendoodle) and Tony (yorkiepoo).
Hobbies:
My favorite thing to do is spend time with my family. We love to play games and watch Alabama football. I love going to breweries and wineries. When I can get away, my favorite place to be on a boat at the lake.
Top five things on your Bucket List:
1. See the Northern Lights
2. Own a boat and a lakehouse
3. Stay overnight in an ice hotel
4. Flip a house
5. Meet Tia Stokes (if you don't know her - look her up on social...she is an inspiration!)
Favorite Quote:
"Start before you're ready."
Mary Beth's Videos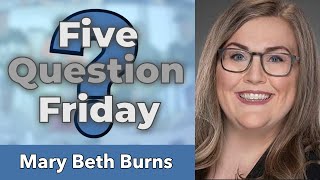 5 Question Friday