<< back to list
Why did you choose Atlas MedStaff?
It is about the PEOPLE! It is refreshing to be empowered and encouraged to do the right thing and to truly take care of those around you! I love being able to come to work and know I am surrounded by and fully supported by others that feel the same way!
Family:
Husband Matt, daughter Addisen and son Cooper
Pets:
Tinker the dog and two cats that are brothers we call "The Earls"
Hobbies:
My family and I enjoy camping, fishing and kayaking. I also love to cook, bake and try new recipes. When I have a spare moment, I appreciate reading a great book!
Any other information you want to share:
I am a volunteer EMT on our Rescue Squad. My husband is the Marketing Director here at Atlas as well!
Top 3 things on your Bucket List:
1. Explore New Zealand with the love of my life
2. To go parasailing and skydiving
3. Watch the Green Bay Packers win the Super Bowl live and in person
Favorite Quote:
Fill your life with Adventures…not things. Have stories to tell…not things to show!
Misti's Videos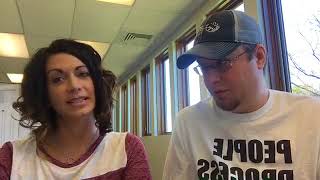 5 Question Friday