<< back to list
Why did you choose Atlas MedStaff?
Knowing that Atlas was a leader in travel nursing but also has the perfect structure to fit me as a professional. There is a solid team put in place that ensures us all to succeed and give the best customer experience for our travelers.
Family
My wife, Karli and my 2 kids, Kaydence and Breckin.
Pets:
Phil the Fish – Real name is Chicken Rainbow Philly
Hobbies:
Golf, football, cooking, and traveling
Any other information you want to share:
I love spending time with my family exploring new and cool places. My daughter is very active in sports and girl scouts so that keeps us really busy. We just recently moved to the Kansas City area so we have a lot of new shops and restaurants we have been checking out!
Top 3 things on your Bucket List:
1. Go to Italy and learn how to cook (and eat) authentic Italian Cuisine.
2. Watch a game in all NFL and MLB stadiums.
3. Break 80 in 18 holes of golf.
Favorite Quote:
"If you think you are too small to make a difference, try sleeping with a Mosquito" -Dali Lama
Nick's Videos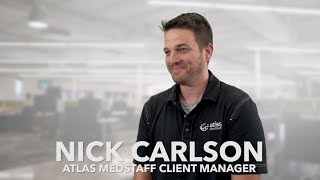 Bio