<< back to list
Why did you choose Atlas MedStaff?
I started PICU travel nursing with my wife (also a PICU travel nurse) in 2018, had a really bad experience with another company, and we were close to giving traveling up. We found Atlas MedStaff and then found our love for travel nursing. We ended up traveling for 2.5 years to 5 different hospitals. We stopped traveling in April 2020 due to the pandemic as there were no PICU travel assignments at first and returned to staff nursing again. When I came across the posting for a recruiter with Atlas, I couldn't say no to getting back to the travel industry!
Family:
My wife Emily and our son Connor.
Pets:
None, but we are planning on getting a Great Dane in the future!
Hobbies:
Hockey, cooking/grilling, reading, and traveling to new cities.
Top five things on your Bucket List:
1. Visit every NHL arena (Currently at 20/32)
2. Take a trip to Italy
3. Buy a bottle of WhistlePig Boss Hog
4. Try a piece of Japanese A5 Wagyu steak
5. Buy a summer house at Lake Tahoe
Favorite Quote:
"The mystery of life isn't a problem to solve, but a reality to experience" - Frank Herbert
Nick's Videos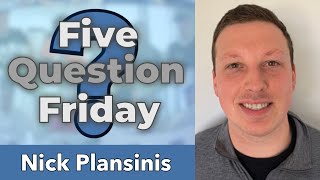 5 Question Friday