<< back to list
Why did you choose Atlas MedStaff?
I started PICU travel nursing with my wife (also a PICU travel nurse) in 2018 and had a really bad experience with another company and was close to giving it up. We found Atlas MedStaff and then found our love for travel nursing. We traveled for 2 years to 5 different hospitals. Due to the pandemic last year, we had to stop because we found out we were pregnant. When I recently came across the posting for a recruiter, I couldn't say no to getting back to the travel industry!
Family:
My wife Emily and our son Connor (15 months)
Pets:
None, but we are planning on getting a Great Dane in the future!
Hobbies:
Hockey, cooking/grilling, reading, and traveling to new cities.
Top five things on your Bucket List:
1. Visit every NHL arena (Currently at 18/31)
2. Take a trip to Italy
3. Buy a bottle of WhistlePig Boss Hog
4. Try a piece of Japanese A5 Wagyu steak
5. Buy a summer house at Lake Tahoe
Favorite Quote:
"The mystery of life isn't a problem to solve, but a reality to experience" - Frank Herbert
Nick's Videos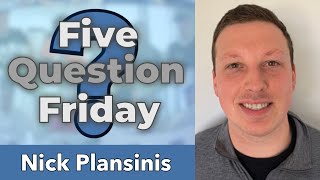 5 Question Friday