<< back to list
Why did you choose Atlas MedStaff?
Choosing Atlas MedStaff was such an easy decision. The culture is top notch along with the amazing employees.
Family:
I have 6 nephews and 2 nieces that are my world. I love spending as much time with them as I can.
Pets:
Gertie- Double doodle Mabel- Goldendoodle
Hobbies:
I love to shop at any and all places. I also enjoy spending time with my family and friends.
Top five things on your Bucket List:
1. Spend 2 months in the Caribbean
2. Visit Alaska
3. Buy a vacation home in Hawaii
4. Have 2 hours to shop with an unlimited budget
5. Open a dog sanctuary
Favorite Quote:
At the end of the day, let there be no excuses, no explanations, no regrets. -Dr. Steve Maraboli
Carrie's Videos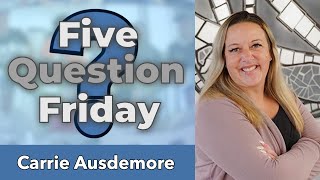 5 Question Friday