<< back to list
Why did you choose Atlas MedStaff?
Atlas MedStaff is everything I look for in a company. It is fast growing, competitive, and most of all, caring. They care about their work, their clients, and their employees. Atlas MedStaff is always looking to stay ahead of the game and given the nature of this type of business, they have remained to be on top. That to me says something about the company, and it allows me to know that I am in the right spot.
Family:
My Wife, Sammie.
Pets:
I have a Miniature Yorkie named Coraline.
Hobbies:
I love music and have been in multiple bands in the past. I have had the opportunity to share the stage with bands such as "CrazyTown," Jasin Todd from "Shinedown," and "WayLand." I currently play bass for "Public Figure."
Follow the Healthcare Travelers' Music Club for all things music! 😊
Any other information you want to share:
My hometown is Columbus, NE.
Top three things on your Bucket List:
1. Visit all 50 states
2. Leave the country
3. Write and Record a Full length album
Favorite Quote:
"Expect problems and eat them for breakfast."- Alfred A. Montapert
Dolan's Videos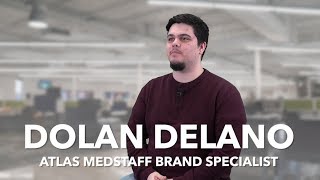 Bio