<< back to list
Why did you choose Atlas MedStaff?
As a former teacher, Atlas has provided me the opportunity to authentically pursue my desire to have a direct impact on people. Now, in addition to teaching/coaching/mentoring, I get to work alongside more established life-long learners and help them pursue their dreams, goals, and adventures. How awesome is that?
Family:
Wife-Kate; Kids-Hailey and Jordan
Pets:
Dog-Pearl
Hobbies:
I love to coach basketball, train quarterbacks, play golf, read/watch/listen to history and other nonfiction works of inspiration and work out.
Any other information you want to share:
Man plans and God laughs...as one who was brought up in a sports-driven and competitive household my world now is completely enveloped by females with my amazing wife, two daughters, and our dog, Pearl. They have taught me so much about "moods", hair ties, unconditional love, grace, patience, and the importance of listening.
Top things on your Bucket List:
1. Visit Jerusalem
2. Travel to my heritage homelands of Norway
3. Skydive with my girls
Favorite Quote:
"Success is a peace of mind which is a direct result of self-satisfaction in knowing you did your best to become the best you are capable of becoming." --John Wooden
J.K.'s Videos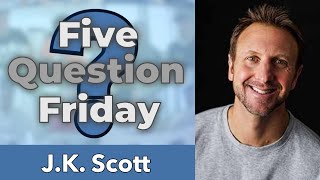 5 Question Friday