<< back to list
Why did you choose Atlas MedStaff?
I chose Atlas because their values. Honesty, determination, integrity, and pride is the foundation by which I live my every day life. I am determined to make a difference in myself and others daily. Atlas is the where I belong.
Family:
I have been with my Husband Brennan for 13 years. We are gifted with beautiful twin girls, Zoe and Chloe.
Pets:
I have been a animal lover my entire life. I currently have a blue fawn American Pitbull Terrier. However, growing up I have had pet ducks, geese, turkey's chicken's, a pig, rabbit's, dog's and cat's.
Hobbies:
I enjoy researching Medical Journals and keeping up to date new emerging scientific studies. I also like to workout, as I am very passionate about fitness and health. But above all, I enjoy spending as much time as possible with my family.
Any other information you want to share:
I believe that knowledge is power and strength comes from within. I give 100% to everything I do. I am a good listener and always lead by example.
Top five things on your Bucket List:
1. Visit Ireland
2. Visit Germany
3. See the Northern lights
4. Visit Savannah Georgia during St. Patrick's day
5. Watch my twins grow up
Favorite Quote:
The most important human endeavor is the striving for morality in our actions. Our inner balance and even our very existence depend on it. Only morality in our actions can give beauty and dignity to life. -Albert Einstein
Kristi's Videos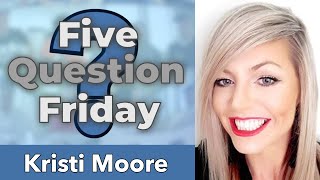 5 Question Friday