<< back to list
Why did you choose Atlas MedStaff?
I chose Atlas MedStaff for the family-friendly culture. From the top to the bottom, this company is focused on the people and making every experience a positive experience.
Family:
I have been married to my beautiful wife Nicole since December 2007, we have 4 children: Hudson, Barrett & Skyler (twins), and Penelope
Pets:
Yorkie named Coco
Hobbies:
My hobbies include camping, boating, snow skiing, chasing kids around all sporting activities, cooking, golfing, and watching the St Louis Cardinals. I also enjoy drinking a nice IPA.
Top five things on your Bucket List:
1. Take a pilgrimage to the Holy Land
2. Attend a Ryder Cup Golf Event
3. Take the family to Hawaii
4. See all 4 of my children grow up
5. Sky Dive (although I don't think my wife will allow it!)
Favorite Quote:
"Do more of what you hope to see more of!" - someone "Never allow the fear of striking out keep you from playing the game" - Babe Ruth
Matthew's Videos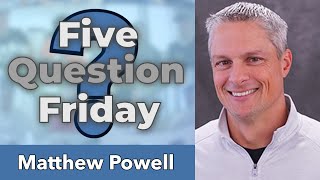 5 Question Friday