<< back to list
Why did you choose Atlas MedStaff?
I have so much respect for nurses and the medical profession as a whole, but knew my strengths lent themselves more to a supportive role. I found that my values and beliefs really aligned with the core values of Atlas and couldn't be more excited to be part of an amazing team that truly believes in everything they do.
Family:
I love spending time with all of my family & friends and proudly claim the title of "Cool Aunt"
Pets:
My four legged family includes 3 lovable rescues: Polly Pocket (dachshund mix), Grizzly (pit/lab mix), and Optimus Prime (Sheperd mix)
Hobbies:
I love baking, gardening, yoga, barre, and traveling - I'm also a total foodie!
Top five things on your Bucket List:
1. Complete a cross-country RV road trip
2. Go Skydiving
3. Travel through Europe
4. See the Northern Lights
5. Complete a Half-Marathon in under 3 hours (3rd times the charm... I hope!)
Favorite Quote:
Discipline is choosing between what you want now, and what you want most. -Abraham Lincoln
Shelley's Videos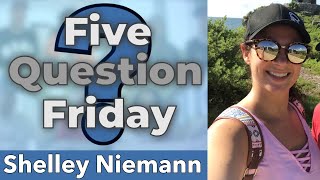 5 Question Friday