<< back to list
Why did you choose Atlas MedStaff?
I chose Atlas because of the people and because of ownership's committment to their employees.
Family:
I got married in June to my wife Emily. No children at this point but we hope to add to our family in the coming years!
Pets:
No pets, but as soon as we get settled in Iowa, a black lab will be on the must have list.
Hobbies:
Anything outdoors, fly fishing, hunting, ATVing, chainsaw milling, woodworking.
Any other information you want to share:
Emily and I will be moving back to central Iowa where our families live. We're hoping to live in the same town as several of our cousins, our main mode of transportation there will be a golf cart.
Top 3 things on your Bucket List:
1. Get my pilot's license and fly my family somewhere for a vacation
2. Learn how to weld
3. Go on an elk hunt with my dad
Favorite Quote:
"I have failed over and over and over again in my life, and that is why I succeed." Michael Jordan
Taylor's Videos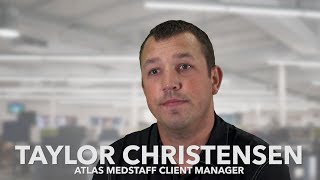 Bio