Adventures in Nursing Blog
In Their Words - Kim Richter, ER RN
By Rich Smith, 09-20-2017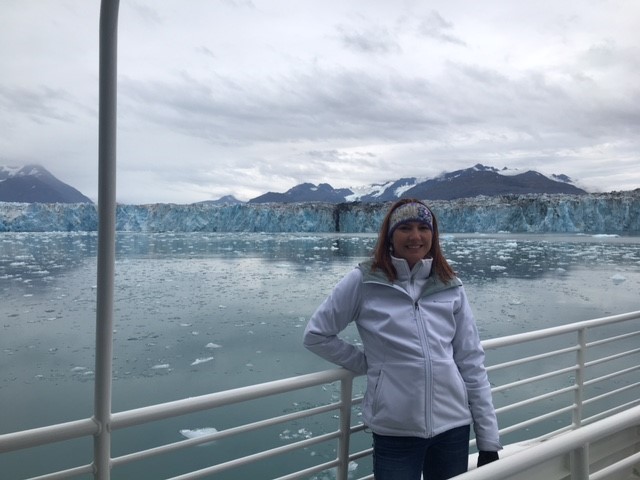 We've asked a few of our nurses to write for us about what its like on the road as a travel nurse. We met Kim at TravCon two years ago, and she's traveled with us ever since. If I had to choose one of our nurses that most embodies "The Atlas Way", it's Kim. We're honored that she's with us, and now I'm honored to publish her writing.
What It Really Means To Be A Travel Nurse? - By Kim Richter, RN
For each and everyone of us travel nursing means something different. It could be a great chance to earn money, travel the country, find yourself or the experience of working in different facilities. Although at the end of the day we do it to travel. For me traveling means so much more.
I started traveling a little over two years ago. First assignment was local. It was a great way for me to get my feet wet in the industry. I loved the facility that I worked for, but I wanted to expand my horizon. I accepted a position in St. Louis and I was on my way. At that point it hit me. What am I doing? A different city, different hospitals, different policies and different staff. More importantly I knew no one.
After the shocked settled in and I lined up where I would be living for the next 13 weeks, I reached out on FaceBook and found other travel nurses working in the same hospital. That changed everything. Their warm welcome and recommendations ease all the apprehension I had. Well most of it. After the first day jitters; I was on my way.
A few weeks into my assignment I really began to enjoy St. Louis and all that it had to offer, but it wasn't about the the job. It was about all that there was to explore. There were so many different places to go and things to do. I quickly realized that the list of things I wanted to do out numbered the amount of time I had to do it. I only had 13 weeks. Fortunately I was able visit several places and make incredible memories. Then it was time to move on.
The question was posed, "where to next"? As I pondered this question and by the time I finished answering the million dollar question, I had narrowed it down to one of the 50 states. I wanted to go everywhere. At that point I realized, is it really about where I go next or was it about how I get there? To clarify is it about the destination we choose or is it about the journey we take getting there and the adventures we take while on assignment?
For me it is about the journey. Discovering who I am. What are my strengths, what are my weaknesses? What can I do to improve myself so that I can better care for my patient's and support the other members of my team.
That is when my journey as a travel nurse began.
Since my journey "began" I have worked in Milwaukee, Wisconsin, Omaha, Nebraska, Trinity, Florida, Kirksville, Missouri and now Nome, Alaska. In each state that I have worked in since I have made it a personal goal to exploring and find adventure. This could be something as simple as taking a walk along the lake front in Milwaukee or hiking a glacier in Alaska. No matter how big or small the adventure you will always learn something new about yourself and others.
I have met some of the most amazing people throughout out my journeys. Great people are everywhere from the facility you work at to the person standing behind you in line. Some of them we will never see again and others will become life long friends. We all have a purpose in each other's lives, we just have to take the time embrace them.
Here are a few of my favorite adventures.
Oxford, Ohio: Great friends and food!
St. Louis, Missouri: Touring the Anheuser-Busch Brewery, Madri-Gras St. Louis Style and The Hill. Great Friends!
Milwaukee, Wisconsin: Walking the bike trail everyday by the lake. Traveling to Madison, Wisconsin to see the Broadway performance of "The Lion King" and Old World Wisconsin. Great Friends!
Omaha, Nebraska: Cornhusker Football, Camping at Lake McConaughey, Storm Chasers Baseball and great friends that are now family. Most importantly the food, especially sushi!
Trinity, Florida: Parasailing, jet skiing int he Gulf of Mexico, snorkeling and an impromptu drive to Islamorada, Florida for dinner. Great friends!
Kirksville, Missouri: Hiking by the Lake, road trips to Omaha, Nebraska and St. Louis, Missouri. The best roommate ever! Great friends!
Nome, Alaska: Beach walks, Pilgrim Hot Spring's, Dorothy Falls, Midnight Sun, Salmon Fishing and dinner with friends! Friends that are now family!
In the interim; exploring along the way! Valdez, Alaska: Bridal Veil Falls, Horse Tail Falls, Keystone Canyon, Thompson's Pass, Worthington Glacier, Valdez Glacier, Columbia Glacier, The Salmon Hatchery and so much more.
As I have mentioned I have made great friends everywhere I have traveled. Each and everyone of them have been part of my journey and I will forever cherish the memories and their friendship.
I encourage each and everyone of you, take the time to discover what is around you. Experiences are what make us who we are. Gives you the opportunity to discover yourself.
Focus on the journey and not the destination.