<< back to list
Why did you choose Atlas MedStaff?
I have always had a lot of compassion for nurses, and they have played a huge role in my life. Working for a company that puts its nurses first and provides the best care possible is very important to me. I chose Atlas because they have great morals, are veteran owned, and really practice what they preach! I couldn't be happier to work for a company that truly encourages everyone and everything is based on doing the right thing. I love being apart of the Atlas family! :)
Family:
My mom, dad, sister, brother, and me. I'm the baby of the family!
Pets:
None right now, but hopefully a puppy in the near future!
Hobbies:
I love being outside and going hiking, kayaking, camping..etc. Honestly, if I'm outdoors I'm happy! I grew up in a very artistic family, so I spend a lot of time painting! I'm also a huge foodie! Realistically I spend most of my time eating my body weight in pizza haha.
Any other information you want to share:
Top five things on your Bucket List:
1. Go Skydiving
2. Go to every continent
3. Write a book
4. Move to Manhattan
5. Learn how to surf
Favorite Quote:
"Do what is right, not what is easy"
Emily's Videos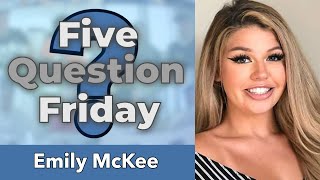 5 Question Friday