<< back to list
Why did you choose Atlas MedStaff?
I chose Atlas because I felt this was a company I could be truly proud to work for and bring other nurses to. I felt a sense of "home" from the minute I spoke with an Atlas employee!
Family:
My parents, two sisters, and brother-in-law all live in Florida! They would 100% approve of my "pet" section being more thorough than this section. The furry family members are the real stars in our family
Pets:
I have a 5-year-old cat, Bandit, who I traveled with for 4 years. He is crazy social and loves to play fetch. I recently adopted my 3-legged Great Pyrenees mix- Griffin. He is the cutest mix of sweet, stubborn, playful, and "good boy".
Hobbies:
I enjoy lifting, yoga, hiking, pretending I have a green thumb, and pretty much anything water related!
Any other information you want to share:
Top five things on your Bucket List:
1. Move back to Seattle
2. Visit my family in Germany
3. Have a family of my own and make them laugh every day!
4. Summit a 14er
5. Visit Kettering, OH
Favorite Quote:
"No question about it...I am ready to get hurt again" - Michael Scott (The Office) A silly way of saying "with great risk comes great reward".
Kathryn's Videos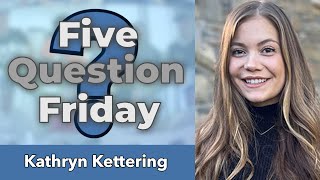 5 Question Friday