<< back to list
Why did you choose Atlas MedStaff?
After being a travel nurse for Atlas, I noticed how much they care for their nurses! As a nurse myself, I appreciated the time and effort they took to get to know me and make sure I was supported even during a pandemic. I hope to give my nurses the same compassion and dedication to ensuring their experience exceeds their expectations!
Family:
I live in Charleston, SC, with my amazing husband, Alex, who is also a registered nurse! I also have a beautiful baby boy named Reed!
Pets:
We have a mutt whose name is Frank (named after Frank Mason III)
Hobbies:
Beach, breweries, biking, and building things/diy!!
Top five things on your Bucket List:
1. Travel the world!
2. Go to a super bowl! (When the Chiefs are playing, of course)
3. Learn to scuba dive!
4. Start a family!
5. Own a boat!
Favorite Quote:
"Whatever you do, work heartily, as if working for the Lord and not for men." -Colossians 3:23
"Did we just become best friends?" -Step Brothers
Sarah's Videos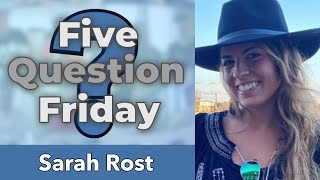 5 Question Friday