<< back to list
Why did you choose Atlas MedStaff?
As a prior travel nurse, myself, I wanted to choose a company that I had worked for myself and that I truly trusted. Atlas had my back as a nurse working for them so, why not go work for the best as a recruiter? I wanted a company that would always put the nurse first, and they proved to me that they really do! It truly feels like we as a company are a part of a team, and it inspires me to work as hard as possible to give my nurses my best self every time.
Family:
My mom, dad, and brother!
Pets:
My Catahoula/Lab Mix (dog), Theo. He's an expert traveler himself. He's been to each assignment of mine since I got him! On my days off, he loves to steal all the attention, hike, and swim!
Hobbies:
I'm constantly trying new things! You never know what you'll be good at! I truly enjoy traveling and experiencing new places! Guilty Pleasure: shopping. Things I NEED: outdoor activities. The thing that makes me feel most fulfilled: spending time with loved ones.
Any other information you want to share:
I've been a nurse since 2014 and traveled almost six years! In summer of 2021, I decided to take the plunge for something totally new and check out the recruiter side of life! I've worked in many different hospitals all over the country. I want to provide others with the tools and knowledge I wish I would have had for my first assignment. I also have some awesome recommendations from the different places I've experienced personally!
Top five things on your Bucket List:
1. See the Northern Lights
2. Explore at least one new country each year
3. Visit the Maldives!
4. Sky Dive (at least once)!
5. Learn to rock climb!
Favorite Quote:
Everything you ever wanted is on the other side of your fear. -George Addair
Olivia's Videos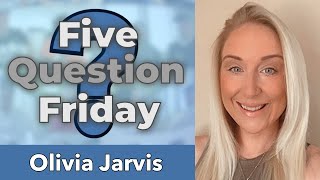 5 Question Friday