<< back to list
Why did you choose Atlas MedStaff?
As a prior traveling nurse myself, I wanted to choose a company that I had worked for myself and that I truly trusted. Atlas had my back as a nurse working for them so, why not go work for the best as a recruiter! I wanted a company that would always put the nurse first and they proved to me that they really do!
Family:
My fiancé, Adam! I have one brother and family all over the US!
Pets:
My pup, Theo. He's almost 3 and he's an expert traveler himself. He's been to each assignment of mine since I got him! On my days off, he loves to steal all the attention, hike and swim!
Hobbies:
I'm constantly trying new things! You never know what you'll be good at! I truly enjoy traveling and experiencing new places! Guilty Pleasure = shopping Thing I NEED= outdoor activities. Thing that makes me feel most fulfilled= spending time with loved ones.
Any other information you want to share:
I've been a nurse for 7 years, traveled for going on 5. I've decided to take the plunge for totally something new and check out the recruiter side of life! I've worked in many different hospitals all over the country. I want to provide others with the tools and knowledge I wish I would have had for my first assignment. Also, I have some pretty awesome recommendations from the different places I've experienced!
Top five things on your Bucket List:
1. See the Northern Lights
2. Explore at least one new country each year
3. Visit the Maldives!
4. Sky Dive (at least once)!
5. Learn to rock climb!
Favorite Quote:
Everything you ever wanted is on the other side of your fear. -George Addair
Olivia's Videos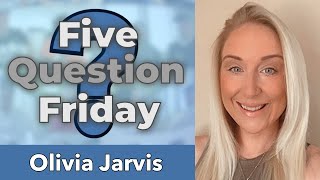 5 Question Friday