<< back to list
Why did you choose Atlas MedStaff?
I want to work for an organization that has values I believe in; that fosters a respectful and positive culture while rewarding excellence.
Family:
My husband of 23 years is a combat veteran of the USMC, Desert Storm. We have three daughters and live on an acreage in the country by a state park.
Pets:
We have two big farm dogs, Maya & Maple, a few cows & goats, two bunnies, & dozens of chickens.
Hobbies:
I love to read, hike, swim, travel and go camping. I have a huge vegetable and herb garden & I help my husband can vegetables & dry herbs.
Any other information you want to share:
I was a teacher for twenty years.
Top five things on your Bucket List:
1. visit New Zealand
2. visit every state in the US
3. write a non-fiction book
4. try every type of cuisine I can
5. help each of my kids find their purpose
Favorite Quote:
"Remember that happiness is a way of travel, not a destination." - Roy L. Goodman
Rebecca's Videos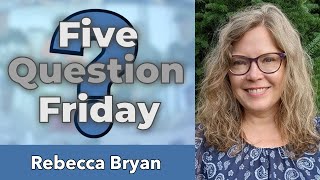 5 Question Friday